Clayxels
Clayxels are tiny voxels that seamlessly blend together like clay, you can use them to create models within Unity or make games with clay-like interactive effects and animations.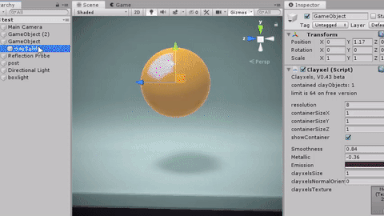 Model assets in a different and fast way, keep them interactive in-game, or export an fbx you can use however you need.
I've created this toolkit out of my own necessity as a game designer to iterate as fast as possible on ideas for new games. Clayxels is a modeling tool and a run-time engine, all in one.
This tool does not use any pixel shader and there's no view dependent ray-marching, it's a compact point cloud that you can use in a whole bunch of different ways.

Public open beta pay-what-you-want
(please consider supporting this software so I can keep working on it <3 )
Want to know more about what the heck are clayxels ?
If you already smashed that download button, head over to the instructions page.
Official twitter account: @claydohmph
Clayxels is being developed by Andrea Interguglielmi, keep in touch @andreintg .
Download
Click download now to get access to the following files:
clayxels_v0_5_tempAssetStoreBeta.unitypackage
73 kB